Soap or Hand Wash Dispenser is a device where liquid soap is stored and a push button is in existence which dispenses the liquid soap automatically drops on your hands. Hand wash dispenser with liquid soaps is very hygienic and reliable alternative to normal soap. It also can be used to store other liquids such as hand sanitizers and shampoos.
Hypuz is leading manufacturer and supplier of soap dispensers in Mumbai, India. We offer a wide range of high quality and technologically advanced hand wash dispensers at wholesale price. We exports and supplies such hygiene products across India and Worldwide.
Below are various soap dispensers with stylish and classic look, available in different body material and at the best prices. We invite dealers and distributors to make the enquires for bulk orders.
Brochure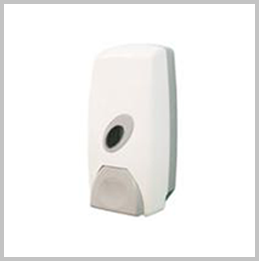 Model No : OR/SD/01 Liquid Hand Wash Dispensers
Material: ABS Plastic
Capacity: 800 ml
Model with stylish design to suit the environment
Push button for easy operation
Push tube system provides more than 1,300 'single shot' per liter refill
Removable opening on top with 1 liter reservoir for cleaning & refilling
Translucent window that clearly shows the remaining soap level
High Durability with ABS plastic material to ensure water resistant with long lasting performance
Hidden opening to protect against vandalism
Option to use either disposable soap cartridge with box or refill container
Dimensions : 88X115X239 mm
Model No : OR/SD/28 Manual Soap Dispenser
Material Used: ABS
Capacity: 600 ml
Suited in classrooms, families, office buildings hotels, kitchens, bathrooms, restaurants and laundry rooms
Economical, reliable and eco-friendly
Model No : OR/SD/06A
Material Used: ABS
Capacity: 200 ml